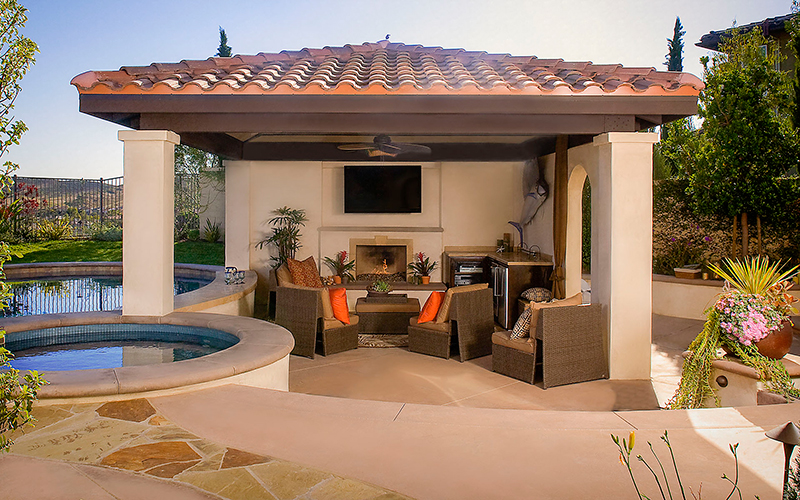 13 Apr

California Rooms in Your Garden

Want to know the perfect solution to being stuck at home and still enjoying the outdoors?

You guessed it, California Rooms and Covered Patios! These are the next best thing to being outside these days, because for now, being stuck at home is the new normal. Social gatherings seem like a far and distant pastime but once Covid-19 passes, we're all going to be socializing like there's no tomorrow. Luckily for us, we live in Southern California and with its gorgeous weather and moderate temperatures year-round we can entertain and enjoy our backyards more than most. So, why not maximize your yards potential?

California rooms are the perfect mix of comfort and the outdoors and they're also one of the largest growing elements in new home construction. For those of you that aren't familiar, a California room has 2-3 walls, a roof for protection from the sun/rain and the added luxury of an interior space. These can be attached directly off of your kitchen giving you seamless access to your backyard and a separate outdoor lounge area. With the addition of espalier fruit trees, interesting ornamentals, new hardscape, a stone fireplace, outdoor tv, bar seating and grill and you'll have the perfect outdoor escape and extension of your family room. These rooms are the embodiment of luxury outdoor living in Southern California and in times like these we all wish we had one!

Before designing your space, you will want to consider the best attributes of your landscape so you give your California room it's most potential. Do you want to accentuate the view you have? Have your room open to your lush landscape? Do you have a pool and jacuzzi area you want to overlook? Sunsets to watch in the evening? Either way, you want to work around the focal points of your yard to give you the ultimate space for entertainment and relaxation within nature.

With summer time on the horizon and warmer weather approaching, people are looking to spend more time outdoors and California rooms are the perfect combination of being outdoors with interior comforts. Designing with and around nature is our passion and it's what we love. Give us a call to request your free consultation today and get started on making your yard the outdoor oasis come to life.