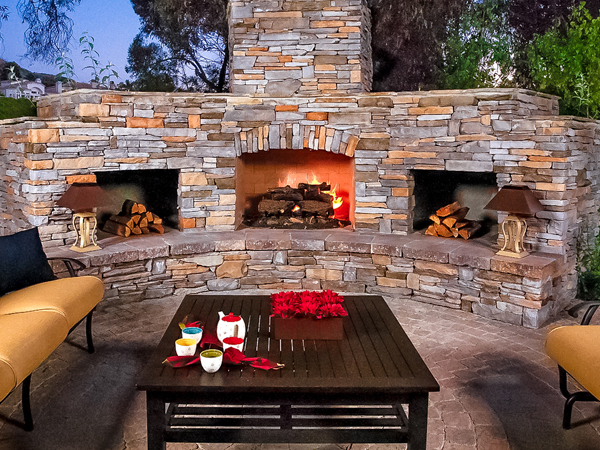 06 Dec

Outdoor Spaces

As we head into the hustle and bustle of the holiday season make a commitment not to neglect your outdoor spaces. Make the most of your outdoor space every season of the year. This time of year naturally our attention turns inward to the warm interiors of our homes, but here in Southern California we can continue to enjoy our outdoor spaces by bringing the warmth of our homes outdoors.

Add warmth with an outdoor fireplace, firepit, or spa. Create a gathering place or peaceful retreat. These are popular features with both young and old. Create a place to enjoy a glass of wine with friends and loved ones and a fun place to make s'mores with the kids or those who are young at heart. There is nothing more invigorating that a breath of chilly fresh air while wrapped in a blanket and enjoying the sights and sounds of an outdoor fire, or feeling the contrast of soothing warmth from a hot steamy spa and the chill of the cold air hitting wet skin.

Think of the therapeutic benefits we long for from a winter getaway, mentally, physically and soulfully, possible in our own backyards. Don't just dream it, do it! Give your family the gift of a better night's sleep after a soak in an outdoor tub or spa, or after a cup of something warm around the fire. Sweet Dreams.

If you have dreaming of big plans for your vacant yard or are contemplating a major remodel of your existing yard, it is never too early to start the planning process. Why not phase the process, surprise your family with the gift of beautifully designed plans for Christmas (think Chevy Chase as Clark Griswold in National Lampoon's Christmas Vacation wistfully imagining his family's idyllic summer by the new backyard pool), sign the contract by New Year and use that tax refund to start construction by early spring.

Come spring and summer you won't be waiting to enjoy your project or pool, it will be ready to go when the weather warms up. We have a creative staff of designers to help you create a plan that blends your needs with the style of your home.

For these bigger projects, it is best to recruit the help of a licensed, bonded, and insured company like Paradise Designs Inc.

Give your family the gift of a well designed yard that everyone wants to spend time in!